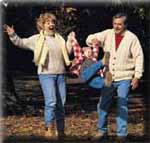 Our life cycle is quite impressive. It varies from individual to individual and from family to family. Each life is precious and special in its own way. Life cycle events and or life changing events create a significant need for a financial plan. We believe, financial success throughout one's life cycle requires a comprehensive plan that should be reviewed, analyzed and updated by each life-changing event.

Working with a Certified Financial Planner throughout your life should enhance your ability for financial success while minimizing risks as you accumulate wealth and venture through life.
Comprehensive financial planning is a critical and necessary step in achieving goals. The planning process at SAS is encouraged so greatly that the fees charged for such a plan are significantly lower that the average market price, and initial consultations are complimentary. Some clients feel the plan is too elaborate for their particular situation. If you have determined that your financial position is not what you hoped or expected, or if you feel that your finances are not as organized or in control as you hoped, then chances are the plan is both necessary and will chart the course to achieve financial success.